Vehicle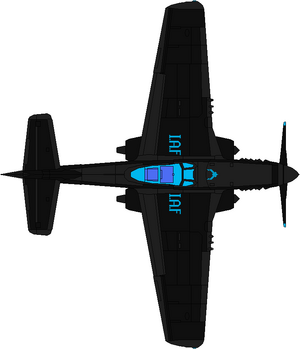 SP-51 Phoenix
Produced In: 2436
Type Vehicle: Starfighter
Width: 37 ft 0 in (11.28 m) (Wingspan)
Height/Depth: 13 ft 8 in (4.17 m)
Length: 32 ft 3 in (9.83 m)
Weight:
7,635 lb (3,465 kg) (Empty Weight)
9,200 lb (4,175 kg) (Loaded Weight)
Armor:
Tarchonium Crystallic Alloy
Deflector Shields
Manufacturer: Intergalactic Alliance of Freedom
Country of Origin: USA
Crew: 1
Armaments:
Wing Mounted Plasma Cannons (6)
Wing Mounted Halo-Class Heat Seeking Plasma Missiles (2)
Special Devices:
Cloaking Device
Propulsion Selection System
Multiple Targeting System
Service Length: 2436-Present
Power Source: Dritanium Crystals
The SP-51 Phoenix is the first propulsion selectable air and spacecraft developed by the Intergalactic Alliance of Freedom. The craft was developed by Aaron Carter after he married Claire Porter in 2436.
Early StartEdit
By 2436; a new spacecraft was needed due to the manuverability that the plasma jet lacked and the speed that the prop plane lacked. Aaron Carter came up with a new propulsion selection system; that allows the pilot to switch between jets and propeller. He then created the SP-51 prototype and tested it, later passing with flying colors.
Present DayEdit
The SP-51 is in fact one of the most valuable fighters in the I.A.F fighter groups. Other variants were made as well and have also earned it's name in history.
Ad blocker interference detected!
Wikia is a free-to-use site that makes money from advertising. We have a modified experience for viewers using ad blockers

Wikia is not accessible if you've made further modifications. Remove the custom ad blocker rule(s) and the page will load as expected.